Crochet And Fabric Quilt With Antique Charm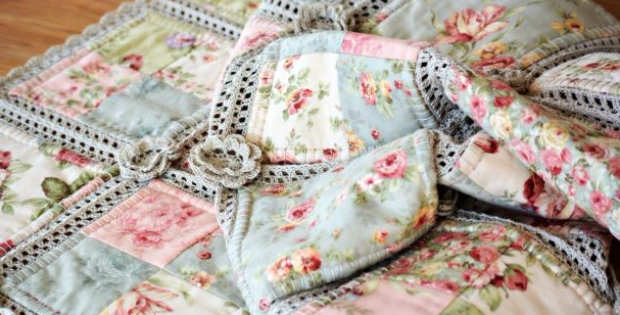 <!- google_ad_section_start -> |
Easy Crochet Sashing and Three Layer Roses Make A Beautiful Quilt.
A lacey crocheted border and sashing adds a special touch to this patchwork quilt. Use fabric scraps in large print florals to capture a vintage feel.
We love the roses, you could even use some old pieces that are in your linen cupboard and create your own beautiful version. If you are not familiar with crochet try this simple crochet stitch to join quilt blocks and around the edges for something. Three layer roses are added after the quilt blocks are sewn and crocheted together, and can be made in any color. It's great to learn new skills. This technique can also be used for tea towels to make a special gift.
Match crochet yarn to fabric tones, or choose a contrast if you want the roses to feature. The quilt would be soft and pretty even without the additional crocheted flowers, and can be used as a stunning throw over the sofa, or even a baby quilt. To make the 3 layer roses, follow this tutorial here.
While there is no exact pattern for the crochet and fabric quilt, J from The Green Dragonfly, has provided a great inspiration to help almost anyone to capture a similar style of quilt. Use the easy tutorial to make your own, using your choice of fabric and colors. You'll be surprised how easily this pretty quilt comes together.
The crochet sashing can be made in a pattern of your choice. See more from Fanny Lu Designs here.
To get started, watch this video to see how to do the crochet edge.
<!- google_ad_section_end ->