Scrap Basket Pincushion And Scissors Holder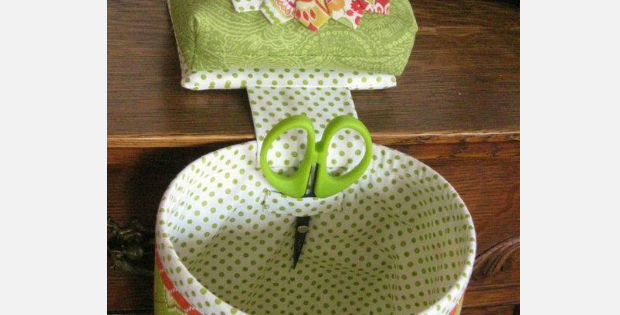 <!- google_ad_section_start -> |
Fat Quarter Friendly Dreamy Scrap Basket
A basket style thread catcher right at hand to throw in scraps while busy with a project. The basket has a wide opening, and nice and sturdy so you won't miss a throw. A generous size pin cushion weighted to hold the basket in place, provides a great combination of three sewing accessories to have right at hand. It is also a very pretty addition to any sewing room!
The Dreamy Dresden thread catcher can be made to look a little 'vintagey', with a quaint scissor holder in view and within easy reach. The pin cushion has a Dresden top for extra charm. The basket requires two fat quarters, and 20 small fabric scraps is all that is needed for the pin cushion.
The basket is attached to the pin cushion and can be seated either side of your working area. The pin cushion measuring  5″ x 5″ x 2″,  is secured to a fabric covered tile by 2 Velcro strips. It's weighted in order to remain firmly in place while you're working and even seats comfortably on the arm of your chair. The basket measures 5 3/4 inches tall and is 5 1/2 inches across, is sturdy and not at all floppy. Stays open allowing you to easily drop in threads and fabric bits. De-tach the pin cushion and use it as you need without having to carry the basket with.
Basic sewing skills are needed. Extras required are the trim. Use walnut shells for the filling, or a filling of your choice, a piece of non-slip shelf liner, boning, and some scraps of batting. Boning is a stiff but very light plastic strip that is used at the rim of the basket to keep it open, keeping the basket sturdy, and also keeps a nice round shape. (Boning available here).
Make up a set and make an extra basket or two for storing scraps. What a lovely gift for any quilter!
A printed copy of the pattern is also available :-
If you're short for time to make one, the Dreamy Dresden thread catcher with pincushion is ready made and available for purchase. There are other designs available for purchase.
The pin cushion makes a delightful gift, or make your own from the pattern.
<!- google_ad_section_end ->