Prepare A Perfect Holiday Display With Dec La Table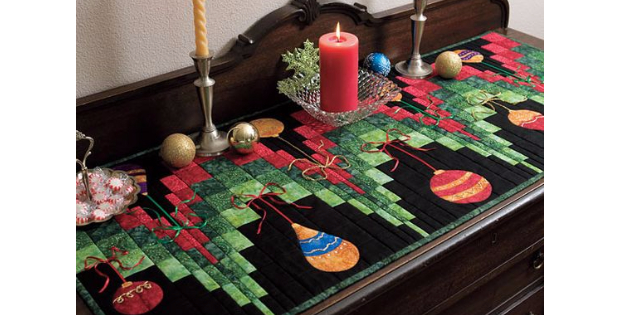 <!- google_ad_section_start -> |
This Bargello Table Runner Is Sure To Impress.
After you've decked the halls and put tinsel on the tree, it's time for a very special addition. This pretty Bargello makes me think of Christmas music playing in the background while decorating for the holiday. Christmas is fast approaching and there's time to make something that will sparkle.
This table runner pattern looks stunning when made with festive Christmas fabrics, with bargello rises and falls in traditional reds and greens, but can also easily be used for any occasion. The design may appear a little challenging, but it only takes a couple of minutes to realise the technique is quite simple. Sew the strips of fabric to create a tube and then cut into various widths. Just moving the strips up or down one step at a time creates the sweeping curve. Use the batik color choices in this table runner, they're so bright and festive, or choose your own very special combination, even bringing in a little purple. Black for the background really accents the bright colors. Embellishing the appliquéd ornaments add sparkle, and so much fun to make.
It's a project that becomes a work of art. Use the 'Kit Builder' available on Connecting Threads purchase page where placement colors can be swapped out to create your own effect without even touching a scrap of fabric. Purchase the suggested fabrics, or find a similar match in your stash. Scraps can be used to make the ornaments, along with ribbon and some embellishments you might have put away in a box of small keepsakes, to add that extra special personalised touch. A Christmas runner that can be taken out every year for years to come.
The 'Dec La Table' Bargello table runner pattern, designed By Anne Lauer, is available for purchase from Connecting Threads.
<!- google_ad_section_end ->